Demand Planning, Inventory Management, and S&OP for the Whole Team

Smoothie® Server supports  wide scale concurrent use and automates integration with host systems. The Smoothie Server solution is designed for high volume collaborative planning processes and securely controls the information that users can view and modify.
Features
World class planning, with…
A 100% Browser based user interface;
Online or offline collaboration;
Advanced security and support for wide-scale concurrent access;
Automated bi-directional integration with enterprise systems;
And, easy migration from Smoothie Desktop.
---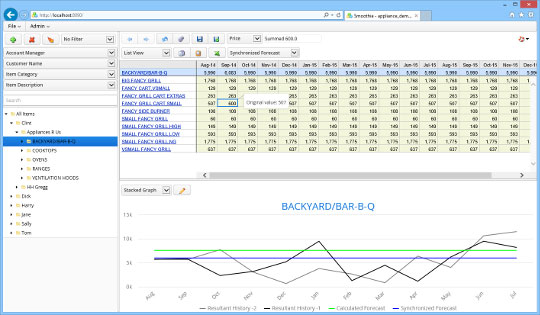 Smoothie Server and Cloud Smoothie can be integrated with existing Smoothie Desktop data feeds in minutes, so you can smoothly progress to a multi-user setup without ever having to implement a new technology.
Click on this link for a detailed Feature Matrix (pdf).
Complete the contact form to download a brochure.